Lockdown and social distancing affecting your child birthday party? Wondering how to host a special day for your little one with all the kids at home? This blog will show you how to host your own virtual kids birthday party!
---
Get Everybody in The Same Room (Virtually of course)
There are two apps I would primarily recommend for this, both have there pros and cons. But allow you to achieve a virtual room full of all your children's pals.
1. HouseParty App (For Android and IOS)
Super simple, very easy to download, and owned by the same company who created the gaming phenomenon Fortnite (if you are hosting a kids birthday party I'm sure you'll regrettably know what that is).
The app can be accessed via a desktop, but I'd recommend using a smartphone or tablet that has access to an App store. Registering takes minutes and you can import all your contacts via your phones contact list. Simply navigate the app to create a room and have all your family and children's friends join before locking the room for added privacy.
This app supports in house virtual games for everybody to play which can be lots of fun, however, it is limited to only 8 people at once per room, so is more suited to a smaller occasion.
---
2. ZOOM Cloud Meetings  (Laptop, Andriod, IOS)
Marketed to a more professional market, slightly more difficult to set up, but far greater in terms of picture quality and connection.
With up to 100 peoples allowed in a video meeting this is the go-to app for a bigger virtual party to accommodate everybody.
Zoom can be downloaded for free on your tablet device or mobile. I'd recommend using with a laptop however as by doing so you can put the meeting in "gallery mode" to see everybody that is participating in the meeting at the same time. This is a great feature that really helps everybody to connect.
---
Put Them On The Big Screen!
Once you have everybody in your virtual room, there's no better way to feel like they are actually in your home then to cast them onto the big screen!
There are three very simple ways to do this based on your device. Each of these adapters works the same way, simply plug the HDMI into your TV and then the connector into your device! (Also works with PC monitors and projectors – anything with a HDMI input)
Within seconds your family and friends will be on the big screen.
1. 4smarts Lightning to HDMI 4K Adapter – Black/Grey (For Apple Devices with a lightning connector)
The 4smarts adaptor has been specifically designed to be used with a lightning connection which means it is fully compatible with all Apple products that run off a lightning connection, giving you the best 4K HDMI experience from your Apple devices.
---
2. Vivanco USB-C To HDMI 4K Adaptor – White (For Laptops, Macbooks, USB-C and Andriod Devices)
The Vivanco adapter connects your USB-C Laptop, Macbook, Tablet or Smartphone with a USB-C port to your TV. Again in full 4k resolution.
---
3. PS 4K HDMI To HDMI Cable – 1.5m – Black (For Laptops & Computers)
Connect your devices in HD with the 4K provided HDMI cable. This HDMI to HDMI cable supports 4K definition & is designed for very high-quality digital image transmission. Ideal for a simple laptop to TV connection.
---
Get The Music Flowing
They say no party is complete without music, but no real party is complete without everybody listening and enjoying that music simultaneously.
You'd think this would be impossible without being in the same room, but think again, the solution is bellow.
1. Watch2Gether – Synchronised music platform
This is super simple and highly effective party tool, fill your houses with the same music and listen together. Fully synchronised audio and visuals, with content from Youtube, Soundcloud and more.
An account takes seconds to register, after that you simply create a room and share the link! Anybody in the room can add to the playlist and away you go. Before you know it you've got "Let it Go" on 5 times in a row and carnage ensuing.
---
2. Olixar ProBeats Waterproof On-The-Go Portable Bluetooth Speaker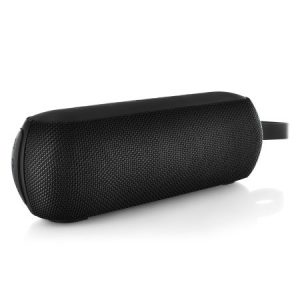 With this speaker you have options! Connect to your mobile phone, tablet or computer seamlessly via Bluetooth to enjoy wireless audio with up to 10m range allowing you to change songs without moving a muscle. The speaker also has a built-in microphone to use with Zoom or Houseparty.
Connect to this powerful Olixar ProBeats Wireless speaker and bring life to the party with powerful Bluetooth audio. IPX6 waterproof rating makes it water and splash resistant so not to worry if fruit juice is flying come the 5th chorus of Let It Go!
After the party is over, this is a portable and versatile speaker for work and play, both indoors and outdoors, and at only £19.99 it is a super investment!
---
Wrapping Up
We hope you found this guide on how to host your own virtual kids birthday party helpful. If you would like to know more about the product featured, then please do click through for more detailed information. Additionally, if you'd like to see more activities for kids at home, please click here.
---
Spencer Saunders