Patchman | A Bodyguard for Your Server | cPanel Blog
With the internet growing larger and our dependency on digital information growing ever more prominent, the issues of web security are a continual discussion point in the world of hosting as well as amongst the web professionals that float through the halls of cPanel. Not only are we looking for new ways to improve our product but we love to highlight others in the web security space that are making strides to make the world wide web a little safer. And this time — we're featuring Patchman.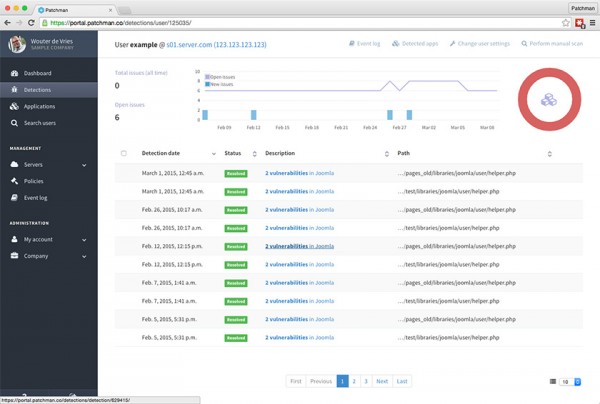 As anyone who uses a content management system, like WordPress of Joomla, knows, patches, security updates, and release upgrades are pushed out every few weeks. These updates, which are geared at often optimizing the security and performance of pages, can at times cause technical issues and breaking. This reality further contributes to the occurrence of site owners and hosting providers not ensuring their systems are optimized to defend against the latest in malware and web security issues.
This is where Patchman, comes to the table with a unique offering that stands apart from other malware fighting systems. Patchman takes a lot of the labor and thought that comes with updating server and site security. This system continuously detects and patches vulnerabilities in web pages and combs servers for potential threats, quarantining them automatically. By backporting security fixes to all versions of WordPress, Drupal, Joomla that are compatible with PHP 5.3+, Patchman guarantees that it will never break websites,
Patchman also comes with a dynamic user dashboard that allows hosting providers to monitor resources as well as the ability to send and create automatic messages to website owners about updates and security issues that may affect them.
What makes Patchman so exciting, in our eyes, is how well it pairs with other malware fighting platforms. While Patchman is a powerful tool for identifying issues and patching weakness, its ability to patrol an entire machine means you can easily use it in conjunction with other malware fighting systems, for optimal security.
Find out more about Patchman by checking out their site.